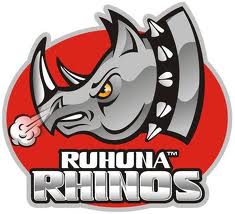 Sri Lanka's Inter-Provincial tournament is a cricket league or competition where five provincial teams participate. Ruhuna Rhinos, representing the southern province is one amongst the five participating teams. The team members are selected from Sri Lanka Premier Trophy and this entire team is based in Galle.
Blue and Red are the chosen colours for the team. This team is known for participating in each and every provincial tournament that takes place. It means that Ruhuna Rhinos participates in Inter-Provincial Twenty20 which is a twenty20 cricket tournament. It also participates in Inter-Provincial Limited over Tournament which is a LIST A tournament and also in Inter-Provincial First Class Tournament which is supposed to be the first class cricket tournament.
After the inauguration in 1990 of The Inter - provincial tournament, the Ruhuna Rhinos team has always been the part of all the tournaments that took place ever since that time. This team comprises of various excellent national as well as international cricketers, still it needs to make a good place for itself in the tournament to bag a title for it.
It was only once when a team got qualified for the final match of the tournament and that was when Ruhuna Rhinos played against team Wayamba in which team wayamba won the match by 31 runs and team Ruhuna was defeated in the Inter-Provincial Twenty20 in 2007-08.
Upal tharanga who was the one of the team member of Ruhuna team scored his maiden double century in Inter-Provincial tournament of 2009 but still this was not enough to make the team win and get through to the semi- finals. This team was beaten up by a team known as Basnahira South by 4 wickets.
The team lost once again in second semi- finals of Inter-Provincial Twenty20 of 2009 in a bowl out for reaching to the finals by team Wayamba in which the match was much affected due to the rain and hence bowl out was carried out then. Seeing the history of Ruhuna Rhinos, we come to the conclusion that this team has to cover a long distance in the field of cricket and has to make much more efforts to make a good place for it in this tournament.
The various matches for Ruhuna Rhinos that are to be conducted in the Sri Lanka Premier League of 2011:
Ruhuna Rhinos vs Nagenahira Nagas, Wed Jul 20
Ruhuna Rhinos vs Uthura Oryxes, Sat Jul 23
Ruhuna Rhinos vs Kandurata Kites, Sun Jul 24
Ruhuna Rhinos vs Uva Unicorns, Thu Jul 28
Ruhuna Rhinos vs Basnahira Bears, Sat Jul 30
Ruhuna Rhinos vs Wayamba Wolves, Sun Jul 31
And ultimately the Semi-Finals and Finals will be played. The matches would be broadcasted in all cricket devoted nations.