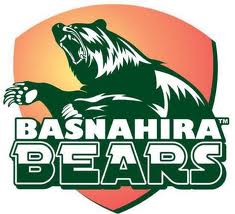 Basnahira Bears is one of the seven provincial teams that take part in the Sri Lankan Inter Provincial Cricket Tournament, representing Western Province.
The Basnahira Bears team is based in Colombo. It is one day name is Basnahira Bears and its captain is Tilakaratane Dilshan. Its jersey color is green and blue. It was initially founded under Western Province in 1990-1991 as Basnahira North.
Later till 1992-2010 it was co founded under Western Province as Basnahira South. Presently, it goes by the name of Basnahira Bears and is still under Western Province. Its home ground is R Premadasa Stadium, whose capacity is 3500. Its first class debut was in Central Province in 1990 at Sinhalese Sports Club Ground. Its Inter Provincial First Class wins is 4 and its Inter Provincial Limited over Tournament is null and so is its Inter Provincial T20 wins. Presently in 2011, it is existing under this name of Basnahira Bears.
The Basnahira Bears draws cricketers from Sri Lanka Premier Trophy. It comes under Western province which has the best Infrastructure. Sometimes the team I divided into two teams: Basnahira North and Basnahira south. Dilshan is the captain of the Basnahira Bears and will surely make huge improvements in the team. Tilakaratane Dilshan is currently the captain for tests, ODI as well as T20 team of Sri Lanka. He was the leading scorer in the ICC 2011 World Cup where he also took 13 wickets in total. He is an all rounder and one of the best fielders in the world. As he is also the International Sri Lanka team captain he has a lot of experience which he can make use to improve to the performance of the Basnahira Bears. He is an aggressive captain and is in great form. His team Royal Challengers also performed well is IPL (Indian Premier League) and was one of the finalists. Therefore he is chosen as the Captain of the Basnahira Bears and is assumed bring great performance by the team. This team will perform in Inter Provincial First Class matches, Inter Provincial Limited over Tournament and T20 Tournament.
The various matches for Basnahira Bears that are to be conducted in the Sri Lanka Premier League of 2011:
Basnahira Bears vs Kandurata Kites, Tue Jul 19
Basnahira Bears vs Uva Unicorns, Thu Jul 21
Basnahira Bears vs Nagenahira Nagas, Sun Jul 24
Basnahira Bears vs Wayamba Wolves, Mon Jul 25
Basnahira Bears vs Uthura Oryxes, Thu Jul 28
Basnahira Bears vs Ruhuna Rhinos, Sat Jul 30
And ultimately the Semi-Finals and Finals will be played. The matches would be broadcasted in all cricket devoted nations.