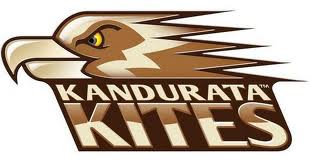 Kandurata Kites is a Sri Lankan first class cricket team based in Kandy and represents Central Province. The Kandurata Team competes for all three provinces, First class tournament of Inter Provincial First Class Tournament, the List A matches known as the Inter Provincial Limited over Tournament and the twenty twenty matches known as Sri Lanka T20 Premier League. They reached the finals of 2007-2008 Inter Provincial Limited over Tournament having won all their round robin matches, but the game went undecided due to unpredictable rain.
The captain of Kandurata Kites is Kumar Sangakkara and it was founded in 1990. Its home ground is Pallekele International Cricket Stadium having a capacity of 10,300. Its first class debut was under Western Province in 1990 at Sinhalese sports club ground. Its match wins include in Inter Provincial First Class, 2 wins ( 2003-2004, 2004-2005 ) ; in Inter Provincial Limited Over, 2 wins ( 2007-2008, 2009-2010 ); and no wins till now is Inter Provincial T20 tournaments.
From the starting of Inter provincial first class tournament the team under central province was known as central province team. Later in 2007-2008 seasons, it was renamed as Kandurata team which is a Sinhalese word known as "Hill country" as the hilly regions of Sri Lanka lie in the Central province. With the origination of Twenty20 cricket in 2003, in came to Sri Lanka in 2004 as the form of Twenty20 Tournament, however it was replaced by the Inter Provincial T20 Tournament in 2008. Wayamba won the first season of the 2007-2008 Inter provincial Twenty20 tournaments.
Kumar Sangakkara was the ex captain of the Sri Lankan cricket team. He is a great test Match player with an average over 55. He is a wicket keeper batsman. Since he has served his team for over four years so can prove to be advantageous for the Kandurata Kites. He has great experience as a captain and can therefore make wonders to the Kandurata Kites.
The various matches for Kandurata Kites that are to be conducted in the Sri Lanka Premier League of 2011:
Kandurata kites vs basnahira bears, tue jul 19
kandurata kites vs nagenahira nagas, thu jul 21
kandurata kites vs ruhuna rhinos, sun jul 24
kandurata kites vs uthura oryxes, tue jul 26
kandurata kites vs wayamba wolves, fri jul 29
kandurata kites vs uva unicorns, sat jul 30
And ultimately the Semi-Finals and Finals will be played. The matches would be broadcasted in all cricket devoted nations.